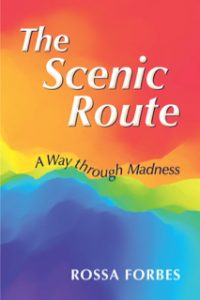 Life was good for Rossa Forbes until the day she began to notice how withdrawn her oldest son Chris was becoming. Fast forward a year; he is delusional, failing his courses, and keeping her and her husband awake at night worrying. How she handles a schizophrenia diagnosis will prove to be the greatest challenge of her life, but never her undoing. Reluctant to accept the mainstream medical advice, she is willing to try a more holistic route, one that takes her and Chris to two continents and several countries.
And the scenery! Peopled with holistic and non-holistic psychiatrists and modern day shamans, vibrating with unusual sound therapies, with side trips into an early psychosis program and hospitalizations, how can they both not emerge, changed in some way?
Their story may literally blow your mind.
The Scenic Route will be published later this year by Inspired Creations, LLC.